Truck Bed-Liners Providers in Newmarket
Whether it's your plaything or workhorse, your vehicle deserves the best protection on the market!
Line-X Newmarket provides LINE-X bed liners for all types of trucks. Give us a call!
Line-X Products for Truck Bed-Liners
At Line-X Newmarket, we know how much your truck means to you. That is why we provide the best truck liners for your vehicle's ultimate protection. We use line-X spray-on to give your vehicle a tough, bold and resistant bed-liner.
Our ultra-durable finish ensures great results for years to come. The LINE-X Spray-On has exceeded the expectations of all our customers, making it the number one product for truck bed-liner protection. Our protective coatings are highly resistant to staining and harsh chemicals. Call us to equip your bed-liner with our special coating!
An effective and efficient protection for your bed-liners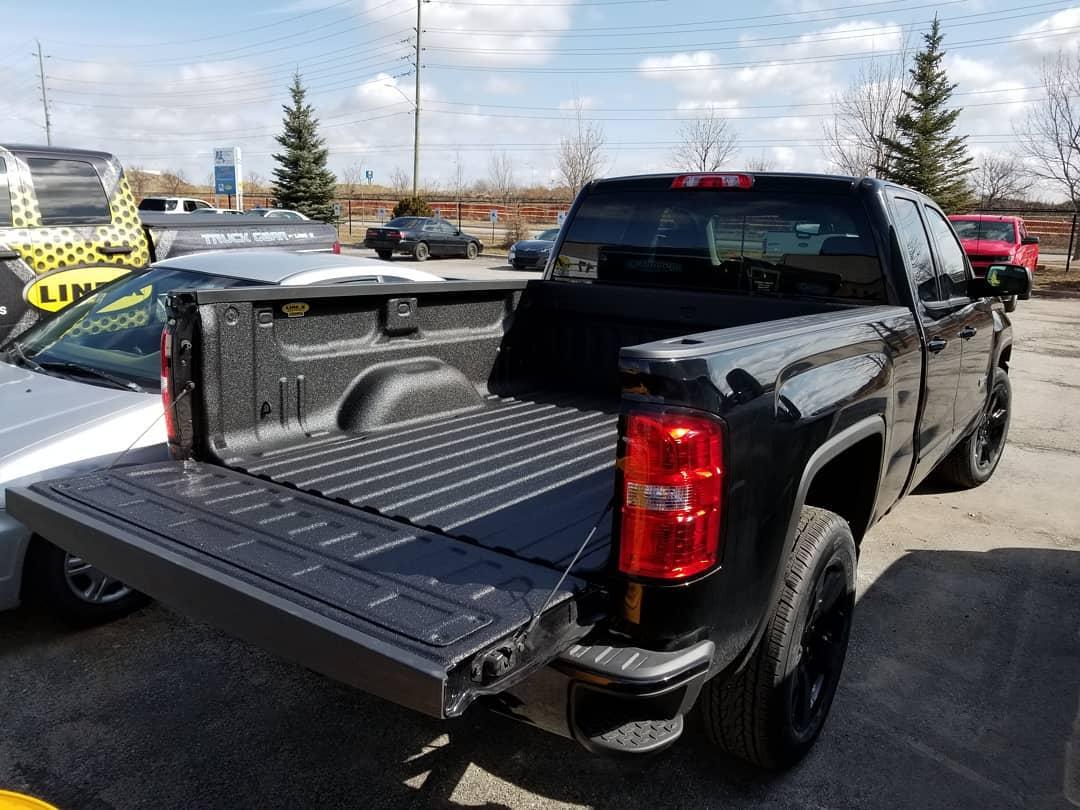 THE LINE-X DIFFERENCE
LINE-X® Spray-On Bedliners provide unmatched protection for your vehicle with the toughest, boldest, and most durable bedliners on the market. Expertly sprayed by highly trained technicians, you can rest assured it's been done right. We're so confident in LINE-X quality that we back our bedliners with a lifetime warranty, giving you complete peace of mind. LINE-X bedliners are designed to meet the needs of every truck owner, whether you're a farmer, hunter, contractor, or weekend warrior.
Lifetime Warranty
Resists Staining From
Harsh Chemicals
Prevents Leaks, Rust,
& Corrosion
No Cracking, Bubbling,
or Peeling
Permanent Bond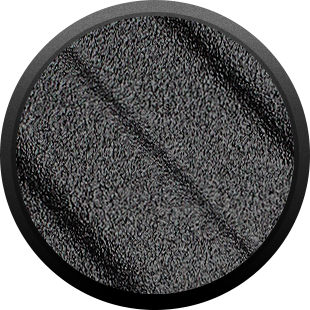 Environmentally Friendly, VOC-Free
Custom Color Options
Sound-Dampening
Impact-Absorbing
Awe-Inspiring
Need spray-on Line-X protective coatings?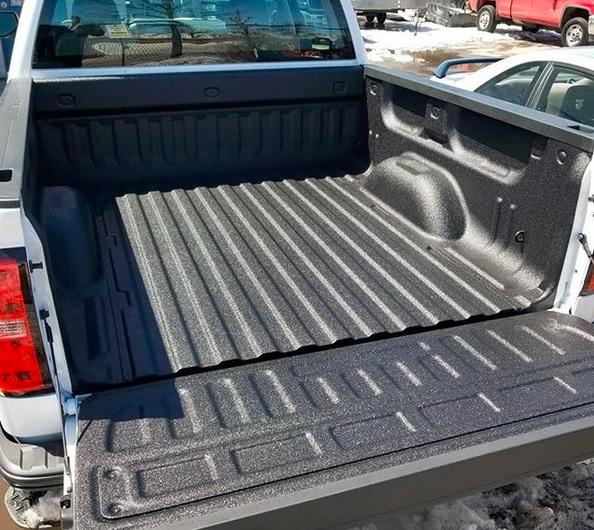 Characteristics of Our Protective Coatings
Line-X Newmarket considers every liner as an extension of the truck itself. We provide a coating that has higher tensile strength, is resistant to scratches, gouging and chemicals.
The LINE-X Spray-On application perfectly contours to the shape of your bed, resulting in watertight seal with no gaps, hole or lost in cargo space.
Why choose LINE-X Premium Bedliners?
Resistant to UV rays
Fade resistant
Enduring lustre
Easy to clean and VOC free
Environmentally friendly
Resist harsh chemicals, impact and abrasion
Free of cracking, bubbling or peeling and much more
A high-quality product to protect your vehicle
How It's Sprayed
Every LINE-X bedliner is applied by highly trained technicians who treat your vehicle like it's their own. Our skilled applicators take time to ensure the quality of their work by verifying the precise tolerances of every bedliner, ensuring a consistent and ideal thickness for optimum utility in a truck bed.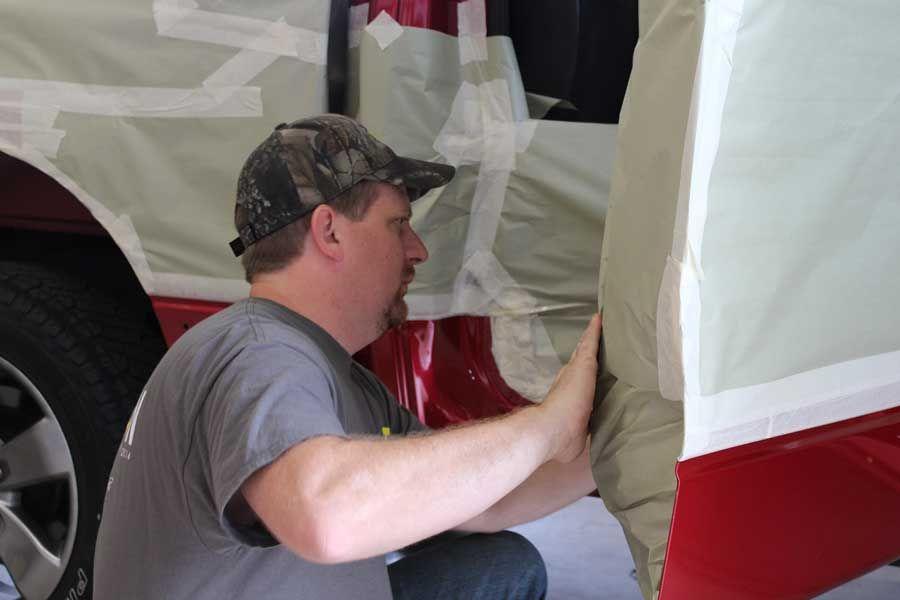 1. Mask Truck
On a clean, dry truck, the bed is masked as if it is to be painted. The entire truck is covered to protect from overspray.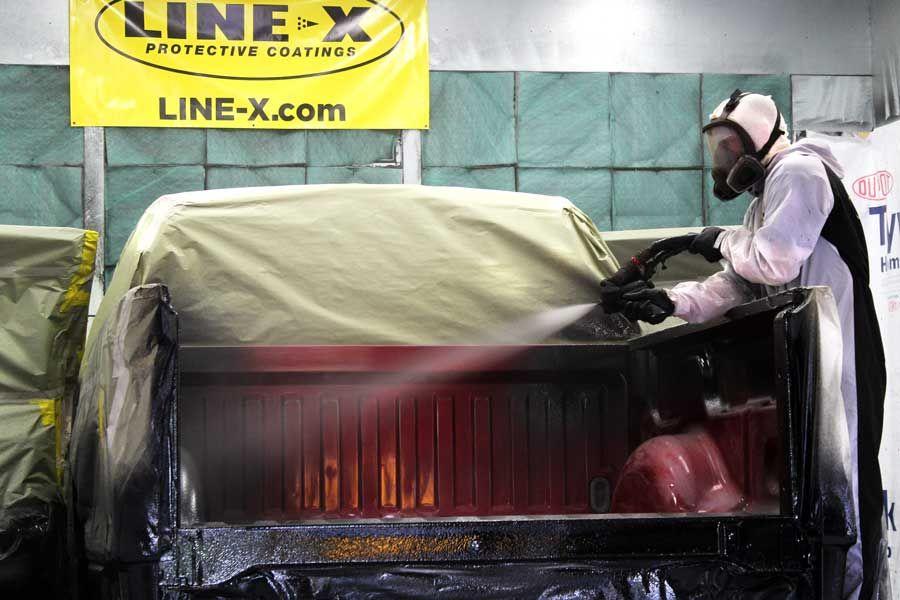 3. APPLICATION
Trained technicians carefully and precisely apply the LINE-X. It dries in 3-5 seconds.
The LINE-X Spray-On:
Allows you to lie about your truck's age
Will make one part of the vehicle to never look worn-out
Can resist solar burnout and fading
Doesn't tear, retain water, warp or leave gaps
A wide range of applications for all types of vehicles
Line-X Newmarket uses the Line-X protective coating for your complete peace of mind.
Line X Newmarket is committed to ensuring that the collection and processing of data carried out by our
linexnewmarket.com
site complies with the General Data Protection Regulations (GDPR) and the Data Protection Act. To know and exercise your rights, particularly concerning the withdrawal of consent to the use of collected data, please consult our
privacy policy